Monkman Loft by Wonder Inc.
The challenge
Canadian artist, Kent Monkman had carved out an ideal studio and loft for himself, from a mixed-use Toronto property, only ten years ago. He partnered with design-build firm Wonder Inc. to see his living and working space come to life. The requirements for his space were twofold. There was the need to have a bright and airy environment for his art team to utilize, as they curate intricate and vibrant reinterpretations of Canadian colonization on large-scale canvases. This needed to be a separate from his stylish living space, as a fusion of quiet solidarity through to evocative entertaining. The finale of this space was featured in an array of design magazines, however; at 3,300 sq ft, it had been outgrown, as Kent Monkman's bottega was bustling.

A new location of 9,200 sq ft was discovered in York region of Toronto. Once a garage space, turned window manufacturing facility; this property was to be transformed into a hub for Cree-Canadian artistry. Jason Halter, of Wonder Inc. was again at the design-build helm of transforming this work + live space for Kent Monkman. With similar design criteria of abundant natural light and Canadian sourced building materials, Wonder Inc. had decided to utilize epoxy coated concrete floors, large spans of Douglas fir plywood along walls and floors of main living spaces, dramatic dimmable wall-mounted lights and dark slate with cleft surfaces, creating a leather-like appearance. All existing window openings were to be kept in tact, which meant Halter needed to source a window to meet budget, timeline and oversized dimensions for typical residential windows.
written & photographed by Laura Weil
Our solution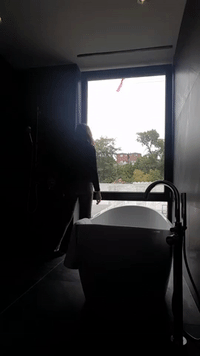 Black framed tilt & turn windows were utilized in the existing punch-out openings. We were able to utilize a single element configuration, which provided an ideal balance of wall to window space, ease of operation and unobstructed views of the neighbourhood skyline. Only one wall was opened, to allow for a three-panel sliding door, which gained access to Monkman's green-roof terrace.
The bathroom window was originally a divided unit; smaller glass area over a solid panel in-fixed area. This opening is now a floor to ceiling clear view window in the wet area of Monkman's ensuite shower and tub area. The horizontal division between the large operating tilt turn at the top and fixed unit below, aligns with the adjacent bathtub, so the swing function for the upper window can clear over the tub. Decorative film will be applied to the lower section to allow privacy and to diffuse the light throughout the dramatic space. 
Jason Halter of Wonder inc.
Kent and I agreed that windows needed to be replaced, due to a unifying feature detail of the overall plan. Euro met the design requirements, our budget, all while providing a product which was easily installed.
The products